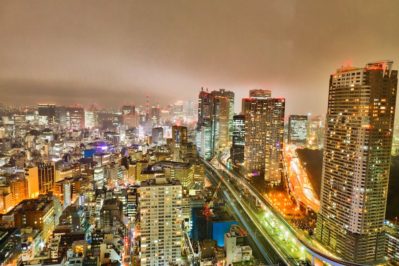 The Program on Vehicle and Mobility Innovation (PVMI) held the third in a series of conferences on the transformation of the mobility sector in Tokyo on November 17, 2018.
Established automotive sector companies, aspiring entrepreneurs, analysts, consultants, policymakers, and activists are watching this transformation closely. The shift encompasses the automotive sector, new entrants from the technology sector, and providers of mobility services.
Mobility of individuals and goods underpins a key part of global GDP and is a source of jobs around the world. Increased convenience can mean higher quality of life and also prompts consideration of challenges such as congestion, greenhouse gas emissions, energy dependence, and user safety. The transformation affects everyone.
Under the banner "The New Mobility," the Tokyo conference featured presentations from scholars in PVMI's worldwide network and practitioners from incumbent automotive companies (Honda Motor, Robert Bosch, Daimler-Benz), new entrant ride-hailing companies (Uber, Grab, Velocia, TADA), and governments (Singapore, Tokyo, Japan, Finland). The University of Tokyo's Manufacturing Management Research Center (MMRC) and London Business School's Institute of Innovation and Entrepreneurship were PVMI's co-sponsors.
Speakers focused on the disruptive aspects captured by industry acronym CASE, which refers to vehicles that are Connected, Autonomous, Shared, and Electric. These technological disruptions affect the movement of virtually all people and goods, particularly in the developed economies that experience them first.
The conference was organized around two themes:
"Connecting the Ground and High Sky" centered on the technological convergence and intermingling of competition and collaboration for automotive and high-tech sectors.
"Disruption and Strategic Options in Fast-Moving Mobility Ecosystems" focused on the rapid emergence of "ride-hailing" as a business model and the intense competition for dominance in various markets, especially in Asia.
In an introductory presentation, PVMI Director John Paul MacDuffie explained PVMI's history, its roots in MIT's International Motor Vehicle Program (IMVP), and its global network of scholars, with research hubs in Philadelphia, Tokyo, London, Paris, and Venice.
See below for the full agenda and links to the publicly available conference presentations.
Here are the highlights.
"Connecting the Ground and High Sky"
Ground and High Sky Framework
MacDuffie and MMRC Director Takahiro Fujimoto presented their framework of "high sky" (digital tech companies), "ground" (automakers), and the emergent "low sky" firms helping to connect high sky and ground. Drawing on examples from the CASE technologies, they highlighted how "low sky" firms are developing the knowledge necessary for successful digital control of vehicles that are "heavy, fast-moving, dangerous objects operating entirely in public space."  "Low sky" is a fluid area, facing both technical and organizational challenges, and could turn out to be a "bottleneck" affecting who captures the most value from "the new mobility."
Shift in European Mobility
Ecole Polytechnique's Christophe Midler and Remi Maniak covered the past two decades of their research in Europe, where "electromobility" was the primary focus of firms and policymakers at the start of the 21st century but where the momentum has now shifted to "autonomous mobility." Midler described three challenges for firms in this shift:
Moving from stage-gate project portfolio management to ambidextrous program management
Shifting from innovating within a stable value chain to exploring in an emerging eco-system
Changing from home-HQ-centric R&D to worldwide exploration & experimentation
Honda's Automated Driving Plans
Honda's senior chief engineer described the full range of initiatives the auto company is undertaking on automated driving, and illustrated with videos of prototype vehicles and features.
Shaping the New Mobility
Former IMVP (MIT) Research Directors Charles Fine and James Womack provided their thoughts on the "big research questions" ahead for those seeking to understand — and shape — the new mobility.  They urged those involved with PVMI to take "the big view," asking "what problem are we trying to solve?" and suggesting a focus on software capabilities as the central element in the disruptive potential of vehicle and mobility innovations.
"Disruption and Strategic Options in Fast-Moving Mobility Ecosystems"
Understanding the "Ecosystem"
Michael Jacobides from London Business School kicked off the conference's second theme by first providing a primer on the now-burgeoning topic of "ecosystems." He then highlighted the significance of shifting the conceptual and analytic frame from "the automobile" to "mobility services" for understanding the complex mix of competition, collaboration, and (attempted) ecosystem orchestration in the current strategizing of both incumbents and new entrants.
Innovation in Mobility Services
Several speakers covered partnerships for the provision of mobility services, including the innovations being piloted in Singapore by AV startup nuTonomy (using vehicles from Renault and Mitsubishi); auto sector firms such as Daimler-Benz and Robert Bosch; and ride-hailing firm Grab (whose dominance caused Uber to leave the Singapore market).  Two startups using blockchain as part of their mobility service offering — Velocia and TADA — presented their business models and expansion strategies.
Public-Private initiatives in Mobility
The last session featured the perspective of governments and the emergence of public-private initiatives to explore new urban mobility solutions. Examples included pilot mobility programs in Singapore and across a set of mid-sized cities in Japan; autonomous shuttle implementation in Switzerland and rural Japan; and mobility ecosystem planning in Finland.
Professors MacDuffie, Fujimoto, and Jacobides closed the conference with a summary of the big research questions around "the new mobility" — and a promise that PVMI will be convening future gatherings of scholars and practitioners to share useful knowledge during this time of transformative change.
Agenda for The New Mobility: Opportunities and Challenges Conference
November 17, 2018
9–9:10 a.m.
Welcome and Introduction
John Paul MacDuffie, The Wharton School, University of Pennsylvania, and Executive Director, PVMI
View presentation here.
9:10–9:40 a.m.
"Connecting the Ground and the High Sky: Impact on Automobile/Mobility Industry of the Future"
Takahiro Fujimoto, U. Tokyo and Executive Director, MMRC, and John Paul MacDuffie
View presentation here.
9:40–10:20 a.m.
"From Electromobility to Autonomous Mobility in Europe: What Have We Learned? What Is Ahead?"
Prof. Christophe Midler and Prof. Remi Maniak, Centre de Recherche en Gestion (CRG), Ecole Polytechnique
View presentation here.
10:20–10:40 a.m. – Break
10:40–11:20 a.m.
"Honda's Initiative on Automated Driving – Current Status and the Future"
Yoichi Sugimoto, Senior Chief Engineer, Automobile R&D, Honda Motor Company
11:20 a.m.–Noon
"The New Mobility: The Long View, the Big View & the Big Research Questions"
James P. Womack, Founder and former President, Lean Enterprise Institute, and Charles Fine, MIT Sloan School and Dean of the Asia School of Business
View presentation here.
Noon–1 p.m. – Lunch
1–1:30 p.m.
"From Automobiles to Mobility: Understanding the Role of Digital Ecosystems"
Michael G. Jacobides, London Business School
View presentation here.
1:30–2:30 p.m.
OEM Partnerships in Urban Mobility Ecosystems
Moderator: Nina Teng, London Business School
Panel:
Dominic Ong, Head of Automotive Partnerships, Grab
David K. Goh, General Manager, Daimler Mobility Services
Klaus Meder, President, Robert Bosch Japan
2:30–2:45 p.m. – Break
2:45–3:45 p.m.
New Mobility Services Beyond Ride-Hailing
Moderator: Michael G. Jacobides
Panel:
Emilie Potvin, Head of Public Policy & Gov't Relations, North Asia, Uber
Hamid Akbari, CEO, Velocia
Kay Woo, CEO, TADA
3:45–4:45 p.m.
Public-Private Partnerships in Urban Mobility Ecosystems
Moderator: John Paul MacDuffie
Panel:
Yiting Lin, Regional Director of Japan, Singapore EDB
Hidetada Higashi, Associate Professor, Yamanashi Gakuin University
Johan Wallin, Managing Partner, Synocus Group
Tatsuro Imai, Senior Deputy Director, City Bureau of MLIT Japan
4:45–5 p.m. – Wrap-up
Taka Fujimoto, John Paul MacDuffie, and Michael Jacobides
5–6:30 p.m. – Reception