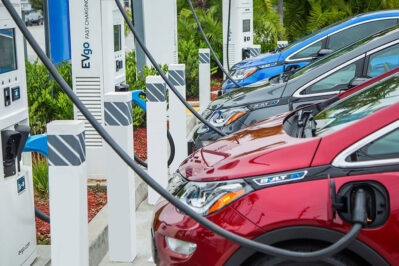 In analysis for Yale Environment 360, "EV Turning Point: Momentum Builds for U.S. Electric Vehicle Transition," published at the Yale School of the Environment, PVMI Director and Professor of Management John Paul MacDuffie and Associate Professor of Legal Studies and Business Ethics Sarah E. Light explain why they see the United States at a "promising turning point" in the transition to electric vehicles — despite a path "strewn with obstacles."
The Wharton professors cite signals such as General Motors' pledge to shift completely to producing electric vehicles by 2035, as well as other automakers' ambitious electrification programs, technological advances, and progress being made in China, the EU, and some U.S. states. Yet MacDuffie and Light also raise the challenges of battery cost and range and charging infrastructure.
In terms of the larger impact of such a transition, they write, "If addressing climate change requires us to 'electrify everything,' then we need to see EVs as part of the larger energy ecosystem, not a separate piece."
Read the full article at Yale Environment 360.