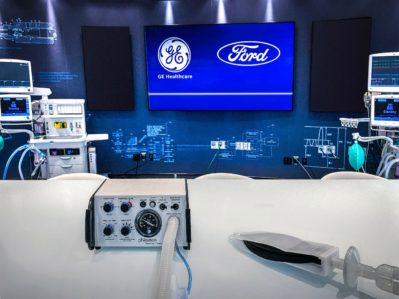 Ford and GM retooled plants to make ventilators for hospital care of coronavirus patients. An ambitious goal to make 50,000 of the breathing machines in 100 days required a quick shift for the industry. Typically, the companies take four years, according to PVMI Director John Paul MacDuffie, to release a brand-new automobile model. "New equipment is installed and tested and run for a while, off to the side, until it's ready to switch over. Workers are trained for that," he told The Washington Post in a news video titled "America needs more ventilators to fight coronavirus. Can U.S. automakers re-tool in time?"
The report examined manufacturing efforts in World War I and World War II, and MacDuffie addressed what's involved in making ventilators amid coronavirus. "The most important thing to remember about these big automakers is that they're orchestrators of incredibly complex global supply chains for thousands of parts, ranging from very, very simple parts to very complex parts," he noted.
Watch the video here.